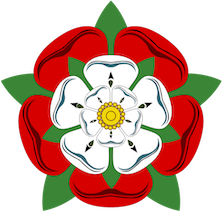 This website initially launched on January 22, 2023, the birthday of Sir Francis Bacon, and in this year which marks the 400th anniversary of his masterpiece, The Advancement of Learning, one of the foundational documents of Anglo-American Civilization.
This project will perform and present, using advanced technology, a series of Experiments which will analyze the 1623 First Folio of William Shakespeare in a way not previously attempted. It will expose some of the secret messages that Sir Francis concealed for us in another of the most important documents in the history of the English Language, The First Folio of William Shakespeare. These two ultra-classic works were published only 30 days apart from each other in 1623. A coincidence? What a month for Anglo-American Civilization!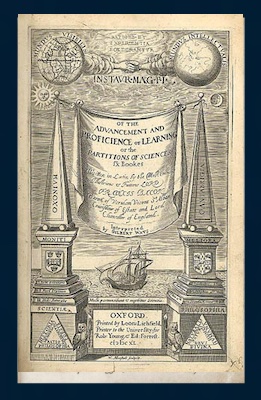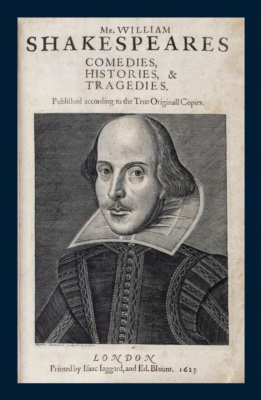 The name of Sir Francis is cryptically embedded within The First Folio, as co-author, in literally hundreds of places. This website will provide visualizations of some of these instances, which have previously been identified by others. More importantly, it will expose some of his hidden, encrypted messages in a way not seen before.
The Experiments will be performed using the entry-level tier of facilities available, for free, from Google's Colaboratory (Colab) online service. Cloud-based Colab makes available vast computing resources to researches for free. Colab executes programs packaged as Jupyter Notebooks, which perform Data Science experiments, and, with reformatting, archive the results in a way which can be viewed as pages on a website such as this (ordinary HTML documents).
Illustrated below are the Jupyter Notebooks of the first two Experiments, in their initial forms. Final forms might still be months in the future, but these will provide an idea of how real this project's progress is. They are coded in the Python programming language.
In [66]:
notebook_filename

 

=

 

'T & C Message Decode 1623_v33.ipynb'

 


from

 

google.colab

 

import

 

drive




drive

.

mount

(

'/content/drive'

)



Drive already mounted at /content/drive; to attempt to forcibly remount, call drive.mount("/content/drive", force_remount=True).

In [67]:
import

 

os




import

 

csv




import

 

pandas

 

as

 

pd




import

 

shutil




import

 

datetime



In [68]:
# Project Purpose:




#




# Decoding the message secretly embedded in the text of the Shakespearen play,




#'Trolious and Cressida'




# by Sir Francis Bacon, using his Biliteral Cipher (Binary Code) as described 




# in his 1623 book, The Advancement of Learning.




project_name

 

=

 

'T & C Prologue Decode 1623'




# Derive input and output directories:




# Root Directory for project content on Google Drive:




content_dir

 

=

 

'/content/drive/MyDrive'




project_dir

 

=

 

content_dir

 

+

 

'/'

 

+

 

project_name

 


data_upload_dir

 

=

 

project_dir

 

+

 

'/text data to upload - tsv/upload/'



In [69]:
#Input File path (1 total):




input_filename

 

=

 

'v21.tsv'




data_upload_file

 

=

 

os

.

path

.

join

(

data_upload_dir

,

 

input_filename

)



In [70]:
#Output File Directory paths (5 total):




original_text_dir

 

=

 

project_dir

 

+

 

'/original text - csv/'

 


biliterals_dir

 

=

 

project_dir

 

+

 

'/biliterals - csv/'

 


output_data_table_dir

 

=

 

project_dir

 

+

 

'/output data table - csv/'

 


decoded_message_dir

 

=

 

project_dir

 

+

 

'/decoded message - csv/'




notebook_dir

 

=

 

project_dir

 

+

 

'/notebook - ipynb/'




archive_dir

 

=

 

project_dir

 

+

 

'/archive - zip/'



In [71]:
if

 

os

.

path

.

isfile

(

data_upload_file

):


  

print

(

data_upload_file

)




if

 

os

.

path

.

isdir

(

original_text_dir

):


  

print

(

original_text_dir

)




if

 

os

.

path

.

isdir

(

biliterals_dir

):


  

print

(

biliterals_dir

)




if

 

os

.

path

.

isdir

(

output_data_table_dir

):


  

print

(

output_data_table_dir

)




if

 

os

.

path

.

isdir

(

decoded_message_dir

):


  

print

(

decoded_message_dir

)




if

 

os

.

path

.

isdir

(

notebook_dir

):


  

print

(

notebook_dir

)

  


if

 

os

.

path

.

isdir

(

archive_dir

):


  

print

(

archive_dir

)



/content/drive/MyDrive/T & C Prologue Decode 1623/text data to upload - tsv/upload/v21.tsv
/content/drive/MyDrive/T & C Prologue Decode 1623/original text - csv/
/content/drive/MyDrive/T & C Prologue Decode 1623/biliterals - csv/
/content/drive/MyDrive/T & C Prologue Decode 1623/output data table - csv/
/content/drive/MyDrive/T & C Prologue Decode 1623/decoded message - csv/
/content/drive/MyDrive/T & C Prologue Decode 1623/notebook - ipynb/
/content/drive/MyDrive/T & C Prologue Decode 1623/archive - zip/

In [72]:
import

 

datetime




now

 

=

 

datetime

.

datetime

.

now

()




output_filename

 

=

 

now

.

strftime

(

"%Y-%m-

%d

_%H-%M-%S"

)




#print (output_filename)



In [73]:
# Decode a five bit binary word into an English Alphabet letter.




# There were 22 letters in the Elizabethan English Alphabet:




#   'I' = 'J'




#   'U' = 'V'




# therefore 5 binary digits are more than enough, 2 (exp) 5 = 32




def

 

decode_biliteral

(

which

):


  

decode

 

=

 

{


  

'aaaaa'

:

 

'a'

,


  

'aaaab'

:

 

'b'

,


  

'aaaba'

:

 

'c'

,


  

'aaabb'

:

 

'd'

,


  

'aabaa'

:

 

'e'

,


  

'aabab'

:

 

'f'

,


  

'aabba'

:

 

'g'

,


  

'aabbb'

:

 

'h'

,


  

'abaaa'

:

 

'i'

,


  

'abaab'

:

 

'k'

,


  

'ababa'

:

 

'l'

,


  

'ababb'

:

 

'm'

,


  

'abbaa'

:

 

'n'

,


  

'abbab'

:

 

'o'

,


  

'abbba'

:

 

'p'

,


  

'abbbb'

:

 

'q'

,


  

'baaaa'

:

 

'r'

,


  

'baaab'

:

 

's'

,


  

'baaba'

:

 

't'

,


  

'baabb'

:

 

'v'

,


  

'babaa'

:

 

'w'

,


  

'babab'

:

 

'x'

,


  

'babba'

:

 

'y'

,


  

'babbb'

:

 

'z'


  

}


  

which_letter

 

=

 

decode

[

which

]


  

return

 

which_letter



In [74]:
# Read the input text data from the .tsv file:




print

(

data_upload_file

)




input_data_table

 

=

 

pd

.

read_csv

(

data_upload_file

,

 

sep

=

'

\t

'

,

 

header

=

None

)



/content/drive/MyDrive/T & C Prologue Decode 1623/text data to upload - tsv/upload/v21.tsv

In [75]:
# De-interlace the original text from the book page text, and store it separately:




original_text

 

=

 

input_data_table

.

iloc

[

0

::

3

,

 

:]




ot_path

 

=

 

original_text_dir

 

+

 

output_filename

 

+

 

'.csv'




original_text

.

to_csv

 

(

ot_path

,

 

index

 

=

 

None

,

 

header

=

True

)

 


#original_text



In [76]:
# De-interlace the biliterals (an 'a' or 'b' quintet) from the book page text, and store it separately:




biliterals

 

=

 

input_data_table

.

iloc

[

1

::

3

,

 

:]




blt_path

 

=

 

biliterals_dir

 

+

 

output_filename

 

+

 

'.csv'




biliterals

.

to_csv

 

(

blt_path

,

 

index

 

=

 

None

,

 

header

=

True

)

 


#biliterals



In [77]:
# Make a copy of the input data frame, and write rows of decoded biliterals into it:




output_encoded_dataframe

 

=

 

input_data_table

.

copy

(

deep

=

True

)




encoded_text_size

 

=

 

0




original_text_letters

 

=

 

''




for

 

row

 

in

 

range

(

2

,

45

,

3

):


  

for

 

column

 

in

 

range

(

14

):


    

letter

 

=

 

output_encoded_dataframe

.

loc

[

row

 

-

 

2

,

column

]

 
    

biliteral

 

=

 

output_encoded_dataframe

.

loc

[

row

 

-

 

1

,

column

]

 
    

which_letter

 

=

 

decode_biliteral

(

biliteral

)


    

output_encoded_dataframe

.

loc

[

row

,

column

]

 

=

 

which_letter


    

encoded_text_size

 

+=

 

5


    

original_text_letters

 

+=

 

letter




odt_path

 

=

 

output_data_table_dir

 

+

 

output_filename

 

+

 

'.csv'




output_encoded_dataframe

.

to_csv

 

(

odt_path

,

 

index

 

=

 

None

,

 

header

=

True

)

 


output_encoded_dataframe



Out[77]:
| | 0 | 1 | 2 | 3 | 4 | 5 | 6 | 7 | 8 | 9 | 10 | 11 | 12 | 13 |
| --- | --- | --- | --- | --- | --- | --- | --- | --- | --- | --- | --- | --- | --- | --- |
| 0 | ThePr | olugu | eINTr | oyThe | relye | sthes | ceneF | romIl | esofG | reece | ThePr | inces | Orgil | loust |
| 1 | aabab | baaaa | aaaaa | abbaa | aaaba | abaaa | baaab | baaab | baaba | aaaaa | ababa | aaaab | aaaaa | abbaa |
| 2 | f | r | a | n | c | i | s | s | t | a | l | b | a | n |
| 3 | heirh | ighbl | oodch | afdHa | uetot | hepor | tofAt | henss | entth | eirsh | ippes | Fraug | htwit | hthem |
| 4 | aaabb | aabaa | baaab | aaaba | aabaa | abbaa | aaabb | aabaa | aaabb | aabab | baaaa | abbab | ababb | baaba |
| 5 | d | e | s | c | e | n | d | e | d | f | r | o | m | t |
| 6 | inist | ersan | dinst | rumen | tsOfe | ruell | Warre | Sixty | andni | netha | twore | Their | Crown | etsRe |
| 7 | aabbb | aabaa | ababb | abaaa | aabba | aabbb | baaba | babba | aabbb | aabaa | baaaa | abbab | aabaa | baaab |
| 8 | h | e | m | i | g | h | t | y | h | e | r | o | e | s |
| 9 | galif | romth | Athen | ianba | yPutf | ortht | oward | Phyrg | inand | their | vowis | madeT | orans | ackeT |
| 10 | abbab | aabab | baaba | baaaa | abbab | babba | ababa | abbab | baabb | abaaa | abbaa | aabba | aaaaa | abbaa |
| 11 | o | f | t | r | o | y | l | o | v | i | n | g | a | n |
| 12 | roywi | thinw | hoses | trong | emure | sTher | auish | dHele | nmene | lausQ | ueene | Withw | anton | Paris |
| 13 | aaabb | baaaa | aabaa | baabb | aabaa | baaaa | abaaa | abbaa | aabba | baaba | aabbb | aabaa | baaab | aabaa |
| 14 | d | r | e | v | e | r | i | n | g | t | h | e | s | e |
| 15 | sleep | esand | thats | theQu | arrel | lToTe | nedos | theye | omeAn | dthed | eeped | rawin | gBark | edoth |
| 16 | abbaa | abbab | aaaab | ababa | aabaa | aaaaa | abbaa | aaaba | aabaa | baaab | baaba | abbab | baaaa | baaab |
| 17 | n | o | b | l | e | a | n | c | e | s | t | o | r | s |
| 18 | eredi | sgorg | eThei | rwarl | ikefr | autag | enowo | nDard | anPla | inesT | hefre | shand | yetva | bruis |
| 19 | aabbb | abaaa | aaabb | abaaa | abbaa | aabbb | abaaa | baaab | babaa | baaaa | abaaa | baaba | abaaa | abbaa |
| 20 | h | i | d | i | n | h | i | s | w | r | i | t | i | n |
| 21 | edGre | ekesd | opite | hThei | rbrau | ePaui | llion | sPria | mssix | gated | CityD | ardan | AndTi | mbria |
| 22 | aabba | baaab | aabbb | abbab | ababb | aabaa | baaaa | baaab | abaaa | ababa | ababa | abaaa | aaaaa | aaabb |
| 23 | g | s | h | o | m | e | r | s | i | l | l | i | a | d |
| 24 | Helia | sChet | asTro | ienAn | dAnte | nonid | nswit | hmass | ieSta | plesA | ndcor | respo | nsine | andfu |
| 25 | baaab | aaaaa | abbaa | aaabb | abbab | aaabb | babba | baaab | baaab | aabaa | babba | abaaa | abbaa | aaaba |
| 26 | s | a | n | d | o | d | y | s | s | e | y | i | n | c |
| 27 | lfill | imgBo | ltsSt | irrev | ptheS | ohnes | ofTro | yNowE | xpect | ation | tickl | ingsk | ittis | hspir |
| 28 | abaaa | abbba | aabbb | aabaa | baaaa | babaa | abaaa | baaba | aabbb | baaba | aabbb | aabaa | aaaaa | aabaa |
| 29 | i | p | h | e | r | w | i | t | h | t | h | e | a | e |
| 30 | itsOa | onean | dothe | rside | Troia | nandG | reeke | Setsa | Honh | azard | Andhi | thera | mJeom | eAPro |
| 31 | abbaa | aabaa | abaaa | aaabb | abbab | aabab | baaba | aabbb | aabaa | abbaa | abbab | aaaab | ababa | aabaa |
| 32 | n | e | i | d | o | f | t | h | e | n | o | b | l | e |
| 33 | logue | armdb | utnot | incon | fiden | eeOfA | uthor | speno | rAeto | rsvoy | eebut | suite | dJuli | keeon |
| 34 | baabb | abaaa | baaaa | aabba | abaaa | ababa | abbba | baaaa | abaaa | abbaa | aaaba | aabaa | abbab | aabab |
| 35 | v | i | r | g | i | l | p | r | i | n | c | e | o | f |
| 36 | ditio | nsaso | urArg | ument | Totel | lyouf | aireB | ehold | ersth | atour | PlayL | eapes | preth | evann |
| 37 | ababa | aaaaa | baaba | abaaa | abbaa | abbba | abbab | aabaa | baaba | baaab | abaaa | abbaa | baaab | aaaba |
| 38 | l | a | t | i | n | p | o | e | t | s | i | n | s | c |
| 39 | tandf | irstl | ingso | fthos | ebroy | lesBe | ginni | ngint | hemid | dlest | artin | ghten | eeawa | yTowh |
| 40 | baaaa | abaaa | aaaab | abaaa | abbaa | aabba | baaba | aabbb | aabaa | ababa | aabaa | baaba | baaba | aabaa |
| 41 | r | i | b | i | n | g | t | h | e | l | e | t | t | e |
| 42 | atmay | bedig | ested | inaPl | ayLik | corfi | ndefa | ultdo | asyon | rplea | sures | areNo | wgood | orbad |
| 43 | baaaa | baaab | baaba | abbab | aabaa | ababa | abaaa | babbb | aaaaa | aaaab | aabaa | baaba | aabbb | baaaa |
| 44 | r | s | t | o | e | l | i | z | a | b | e | t | h | r |
| 45 | tisbu | tthee | hance | ofWar | NaN | NaN | NaN | NaN | NaN | NaN | NaN | NaN | NaN | NaN |
| 46 | aabab | baaab | baaba | aaaaa | NaN | NaN | NaN | NaN | NaN | NaN | NaN | NaN | NaN | NaN |
In [78]:
decoded_message

 

=

 

''




biliteral_values

 

=

 

''




with

 

open

(

decoded_message_dir

 

+

 

'.csv'

,

 

'w'

)

 

as

 

new_f

:


  

for

 

row

 

in

 

range

(

0

,

15

,

1

):


    

for

 

column

 

in

 

range

(

14

):


      

biliteral

 

=

 

biliterals

.

iloc

[

row

,

 

column

]


      

which_letter

 

=

 

decode_biliteral

(

biliteral

)


      

decoded_message

 

+=

 

which_letter


      

biliteral_values

 

+=

 

biliteral

 


print

(

'Encoded Text Size: '

 

+

 

str

(

encoded_text_size

))




print

(

'Biliterals Text Size: '

 

+

 

str

 

(

len

(

biliteral_values

)))




print

(

'Decoded Text Size: '

 

+

 

str

(

len

(

decoded_message

)))




print

(

'

\n

'

)




print

(

'Raw Decoded Message: '

 

+

 

decoded_message

)



Encoded Text Size: 1050
Biliterals Text Size: 1050
Decoded Text Size: 210
Raw Decoded Message: francisstalbandescendedfromthemightyheroesoftroylovingandreveringthesenobleancestorshidinhiswritingshomersilliadsandodysseyincipherwiththeaeneidofthenoblevirgilprinceoflatinpoetsinscribingtheletterstoelizabethr

---
Dividing the raw decoded text string into Words using spaces:¶
francis st alban descended from the mighty heroes of troy loving and revering these noble ancestors hid in his writings homers illiads and odyssey in cipher with the aeneid of the noble virgil prince of latin poets inscribing the letters to elizabeth r

---
Providing basic styling to the message text:¶
Francis St. Alban,
Descended from the mighty heroes of Troy,
Loving and revering these noble ancestors,
hid in his writings
Homer's Illiads and Odyssey, in cipher,
with the Aeneid of the noble Virgil,
Prince of Latin poets,
Inscribing the letters to:
Elizabeth, R

In [79]:
!

jupyter

 

nbconvert

 

--

to

 

html

 

'/content/drive/MyDrive/Colab Notebooks/T_&_C_Message_Decode_1623_v33.ipynb'



[NbConvertApp] Converting notebook /content/drive/MyDrive/Colab Notebooks/T_&_C_Message_Decode_1623_v33.ipynb to html
[NbConvertApp] Writing 318822 bytes to /content/drive/MyDrive/Colab Notebooks/T_&_C_Message_Decode_1623_v33.html